Do you know where your ideal customers are sourced from?
Using this insightful information will help you find more customers of the same type and who have similar motives for buying a solar power system for their home or business. When you think of how often people are typing solar terms into their favourite search engine, you want to make sure you're appearing in those searches.
When customers review the results from Google, the search engine shows them links to what it calculates are the most appropriate sites, based on a wide range of information from other people making similar searches and the results they clicked on.
The theory is that sites which are higher in suitability to the question typed in will go to the top of the list, making it easier for customers to source a reputable solar company in their area.
So if you consider there are approximately 2.3k* monthly searches on the term "solar quotes" and 13k* monthly searches on the term "solar installer", these are high intent search queries you want to rank for.
Top 5 Reasons Why Google Ads Is An Investment for Your Solar Company
1. On average, a person sees anywhere from 6,000 to 10,000 ads each day, according to PPC Protect, which is about twice as many as we were seeing back in 2007. Google Ads will help your business stand out, because they are served to people who are searching for your specific types of products or services.
2. People routinely go on Google to ask questions about finding solar power companies. Since they're already using this platform to find a business, you will benefit by serving ads to them as they make search requests.
3. Designing a Google Ads campaign gives you a great deal of flexibility. You can test different versions of an ad, with A/B split testing, to see which version of an ad gets a better response. It often surprises businesses to learn what converts and what doesn't.
4. With sophisticated analysis of the percentages of people who click on your ads, you can take the feedback and use it to fine-tune Google Ads to be even more effective and make more informed decisions about ad spend.
5. Budgeting is easier for Google ad campaigns, as you can start and stop them as you please, adding more funds to a marketing push and testing how many more sales convert accordingly.
Why it Pays to Outsource Google Ads Management to Experts
Google Ads has changes dramatically in the last few years. You can be confident in the quality and reach of your Google Ads campaign when you outsource paid advertising to the specialists at XEN. For more than 10 years now, we've been cultivating relationships with solar dealers and creating ad campaigns that convert leads to customers.
As a result of our experience, we have a thorough understanding of the solar industry. XEN is proud to manage Google Ads campaigns for solar dealers all across Australia, which are designed to improve brand awareness and generate quality solar leads.
Speak To One of Our Google Ads Specialists Today
With so many Australians turning to Google to ask where they can find a good solar power company to set them up with a system at home or work, it makes sense to create Google Ads to expand your company's brand in the marketplace.
Speak to us about auditing your existing Google Ads campaigns. Or if you are new to Google Ads, we can set up a discovery call to see if we are a good fit for your solar business.
If you're ready to start the conversation book a call with us to talk through your business goals.
* These stats are from Google's Keyword Planner tool, indicating estimates of next month's monthly search volumes on these terms.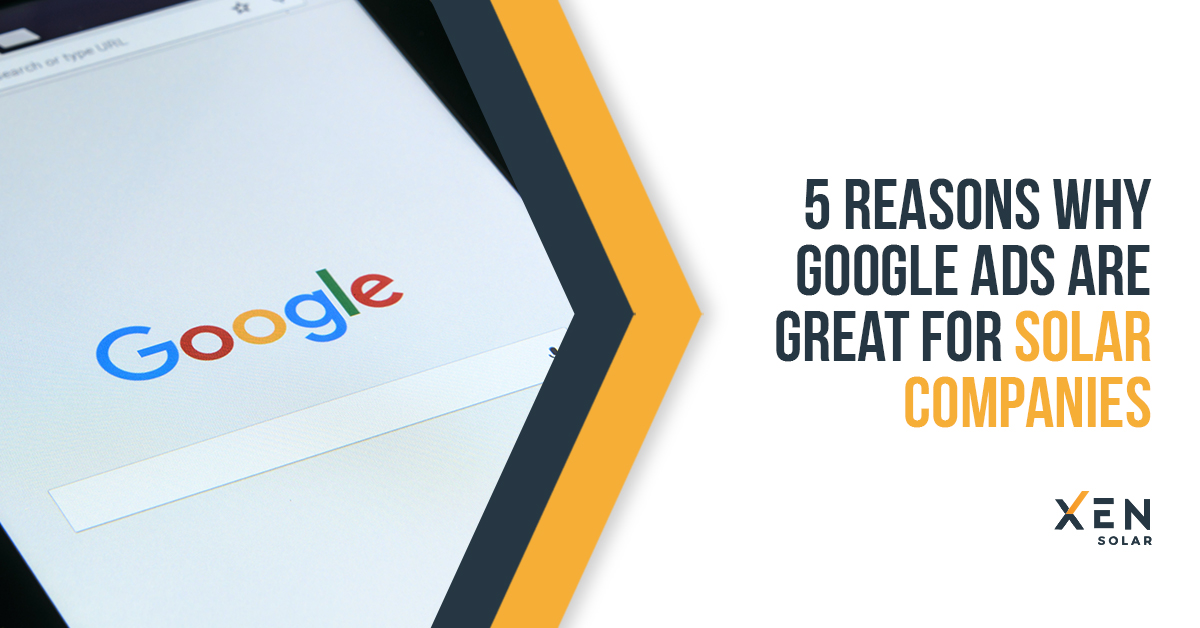 Published: Friday 19 March 2021 | Last updated: Friday 19 March 2021