Solar dealers are focusing on digital marketing in order to be found and grow their business. It is highly likely that your ideal customer will do online research before making a purchase. They'll see how you rank in a Google search, they'll be checking out your website and social pages, and they'll be looking for reviews. Does it make you nervous to think about what your ideal customer will find? It might be time to review the way your business presents on digital.
Changing Trends
Currently, most solar customers want to gain the benefits from changing technology and use it to save money in the long run; environmentalism may not be their biggest goal. These individuals prefer to learn about installers and request quotes on websites. They usually don't want to get started by discussing a project on the phone or meeting employees in person. You've probably noticed that by the time they get to speak to you they are armed with information - and that's where your expertise kicks in.
Niche Targeting
Not everyone can buy photovoltaic panels so it's important to avoid wasting advertising funds to promote your equipment to renters or people who already own panels. Solar installers typically require more precise targeting that digital marketing provides. But there are ways marketers can tap into specific audiences that are more likely to purchase solar. Back-end data will highlights demographics that can be used to filter out unwanted audience types.
Highly Efficient & Measurable
It's possible to quickly and thoroughly measure the results of digital campaigns. You may also fine-tune them at any time if the outcome isn't optimal. It takes much longer to update a magazine ad or roadside billboard, a disadvantage that may reduce your return on investment. Digital advertising is flexible for both message relevance and controlling ad spend.
Why Outsource Digital Marketing?
There is no doubt that you will save time and money by outsourcing digital marketing to the experts. This way, you won't have to spend hours learning to use various systems, staying up to date on the latest techniques or tweaking campaigns as results fluctuate. You can avoid costly trial-and-error experiments. More advantages:
Benefit from experienced marketers without paying high salaries.
Avoid the hassles of trying to recruit qualified marketers locally.
Focus on your area of expertise: installing solar equipment.
Use their experience and data history to optimise your campaigns.
Why Choose XEN Solar?
It's crucial to select a marketing agency carefully. Some agencies achieve lackluster results because they try to promote every business in the same exact ways. When you choose XEN Solar, you benefit from an agency that understands solar energy and has worked with installers for more than a decade.
Our experienced staff manages digital campaigns for dealers located in cities across Australia. We strive to boost brand awareness of each installer's service while producing quality leads that result in actual sales. XEN Solar recognises the specific promotional needs of installers and knows what strategies perform well in this industry.
But that doesn't necessarily mean that we are a good fit for your solar business. That's why we always start with a discovery call, to make sure what services we offer fit your business. We work with dealers who offer quality solar and quality service.
Getting Started
If you're looking to start advertising your solar business online or upscale your digital marketing efforts, set up a discovery call today. We'll provide you with more details, learn about your company and answer questions. There's no obligation, and our staff will help you determine if our services are right for your business.
If you already promote your company online in several different ways and want to achieve better results then an audit would be a better option for you. An audit will review existing efforts to see if they are as effective or efficient as they could be. Think about requesting a XEN Solar digital marketing audit to obtain a helpful professional evaluation.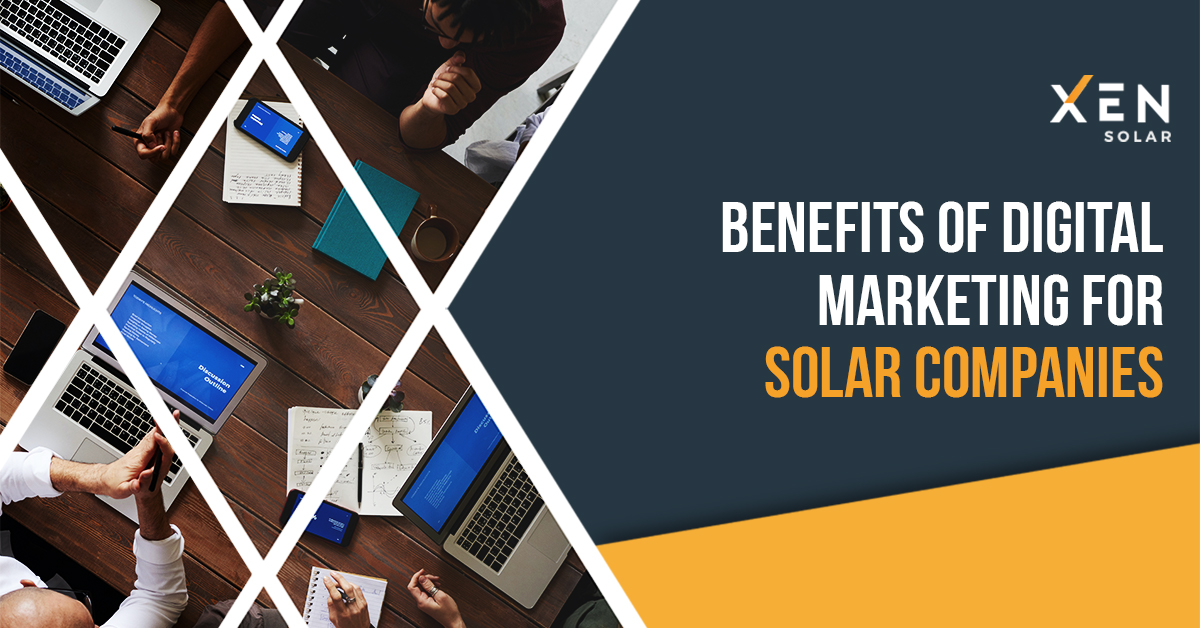 Published: Friday 19 March 2021 | Last updated: Friday 19 March 2021