We choose to use WordPress as our web development platform for most of our clients and recommend it to our solar dealers.
There are few big players in the market, you might be familiar with these ones:


While they all offer good features and functionality, we prefer to use WordPress for the following reasons.
1. It's the Market Leader
WordPress holds over 60% market share against competitors. Most agencies and businesses will be familiar with the platform.
2. It's Easy to Customise
WordPress is a trusted platform that has thousand of plugins and templates to choose from. So if you want to change your website or add extra business features you have access to free plugins that allow you to do this easily.
3. It's User-Friendly
The WordPress dashboard is very intuitive and allows you to update your web pages quickly and easily. No dev team work required, it's all set up for you, which saves you time and money.
4. It's Great for SEO
WordPress templates have built-in keywords and meta-tag options for each page of your website. This allows search engines like Google or Bing to easily scan your pages for relevance when responding to solar search queries.
5. WordPress Can Grow With Your Business Success
As your solar dealership grows, your web pages can easily grow with you. You can start with a basic website, and easily add extra pages, blogs and plug-ins when you need them.
Learn More
6 Tips To Improve Your Solar Dealership's Social Media Presence
Understanding the Buyer's Journey in Solar Digital Marketing
How To Ask Your Solar Customers For Reviews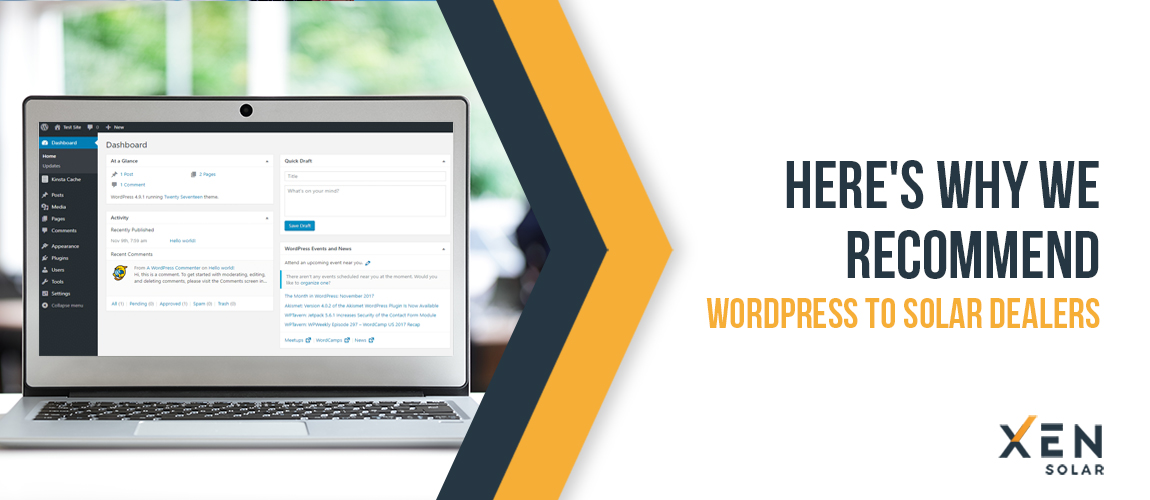 Published: Friday 05 July 2019 | Last updated: Friday 05 July 2019