Customers are the lifeblood of any business, for without customers there is no company.
Giving importance to customers at all stages in the marketing process has great impact in ensuring customer satisfaction, improving business relationship and in return increasing the chances of reaching the goal of repeat business. It is for that simple reason that Customer Relationship Management (CRM) is popular these days.



Table of Contents
What is a CRM?
CRM or Customer Relationship Management is a technology for managing a company's relationship and interactions with current and potential customers. It is a system that helps companies stay connected to customers, streamline processes, and in turn improve profitability.
There are many CRM platforms out there but HubSpot CRM is one of the leading CRM applications available in the market, and one we use with all our customers.
HubSpot is an all-in-one tool that is easy and simple to use – no coding needed. There is a FREE version with capabilities of website integration, tracking communications and analytics with real-time updates.
Plus HubSpot offers great customer support and the HubSpot community is active and friendly.
Setting it up is as easy as 1, 2, 3!
Go to HubSpot's website and click 'Get Started Free'.
Click 'Create a new fresh account'.
Enter the required company details and a few more details about you and your company. Then click 'Finish Sign Up'.

Voila! Your Solar Site now has a HubSpot account.
Branding and Personalisation
Personalise and add branding to your account. Go to Settings (cog in the top right) > Account Defaults, and update information with Company brand (i.e. Company Name, Address, Time Zone, Logo, Colors)

What do I get with my Free account?
Free accounts have access to these integrated marketing tools for growing your business.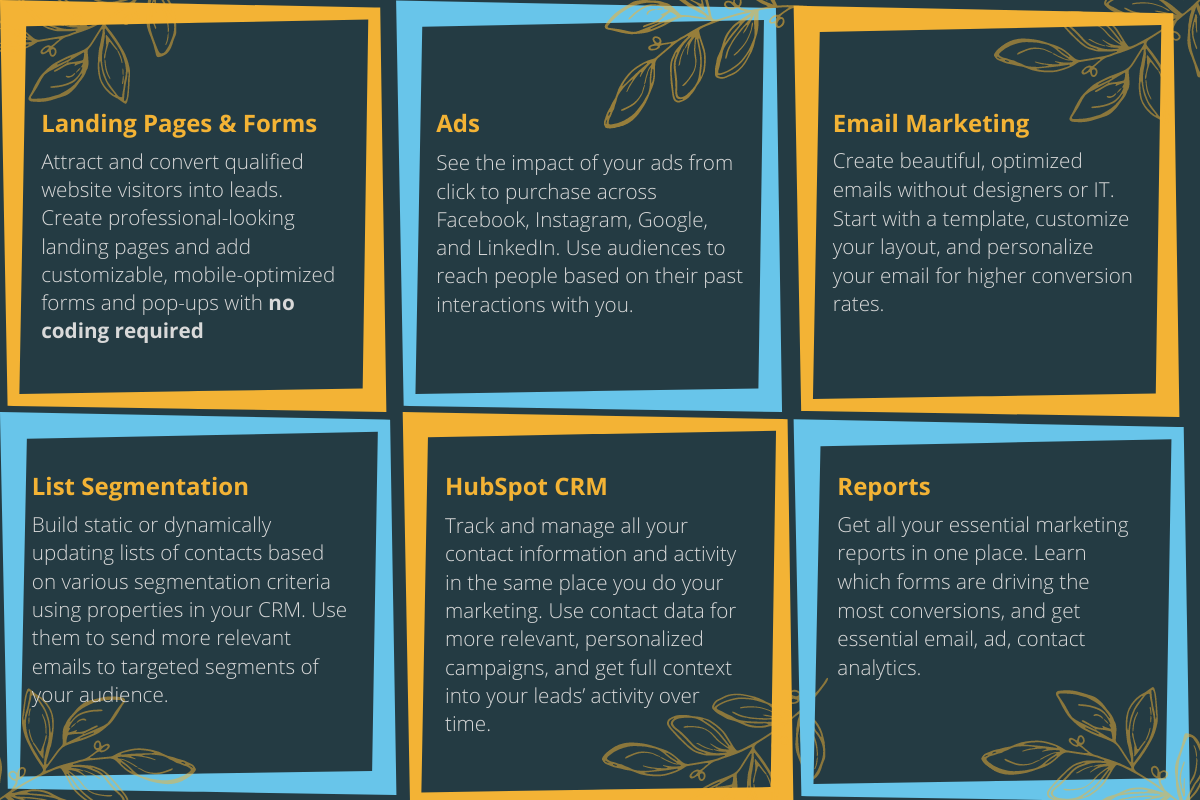 You have access to landing pages and automated emails allowing you to quickly engage website visitors. Obtain prospects and leads with pop-up forms. Optimise website visitor activity, find insights into your customers' journey and create detailed segments. With the collected contact lists and segments, you are able to deliver ads on the platforms where your customers are spending the most time.

All data on the various marketing strategies you have implemented are captured in HubSpot.
HubSpot offers basic analytics throughout all of its tools which are more than sufficient for dashboard reporting. With HubSpot data collection, you can leverage this information as a guide for your marketing strategies and capture important metrics you need to get better insights for your next campaigns.

With Marketing Hub Starter you have 24/7 access to HubSpot support who are experts on HubSpot tools inside and out.

With all these HubSpot tools and automation capabilities at your fingertips, you now have more time to build relationships and improve your customer experience.

Integrating HubSpot with your Existing Website
Each HubSpot account has a unique HubSpot Tracking Code that allows HubSpot to monitor your website traffic. The code is automatically included on HubSpot blog posts, landing pages, and website pages.
Installing the Tracking Code on your website
In you HubSpot account , go to Settings.
Navigate to Reports, then Tracking Code.

Click Copy or click Email to my web developer to send the tracking code to the team member who will be installing it on your site.

Paste the code before the closing </body> tag in the HTML code for each page of your site.

If your site is built on WordPress, you can use the HubSpot All-In-One Marketing – Forms, Popups, Live Chat WordPress plugin. Once the plugin is installed, the HubSpot tracking code is automatically added to your WordPress pages, and you can access many of HubSpot's tools directly from your WordPress account.



Installing the plugin on your WordPress website
Log in to your WordPress website admin dashboard.

In the left sidebar menu, navigate to

Plugins

>

Add New.
Search for the HubSpot All-In-One Marketing – Forms, Popups, Live Chat plugin.
In the upper right, click

Install

Now.
Click

Activate Plugin.
In the left sidebar menu, navigate to

HubSpot.
Click

Log in to your account

to finish the installation process.

If you haven't set up a HubSpot account yet, you'll be prompted to create one.
HubSpot Integration with Facebook Ads
To connect your Facebook Ads account in HubSpot, follow these steps:
Go to Marketing > Ads, and click "Connect Account"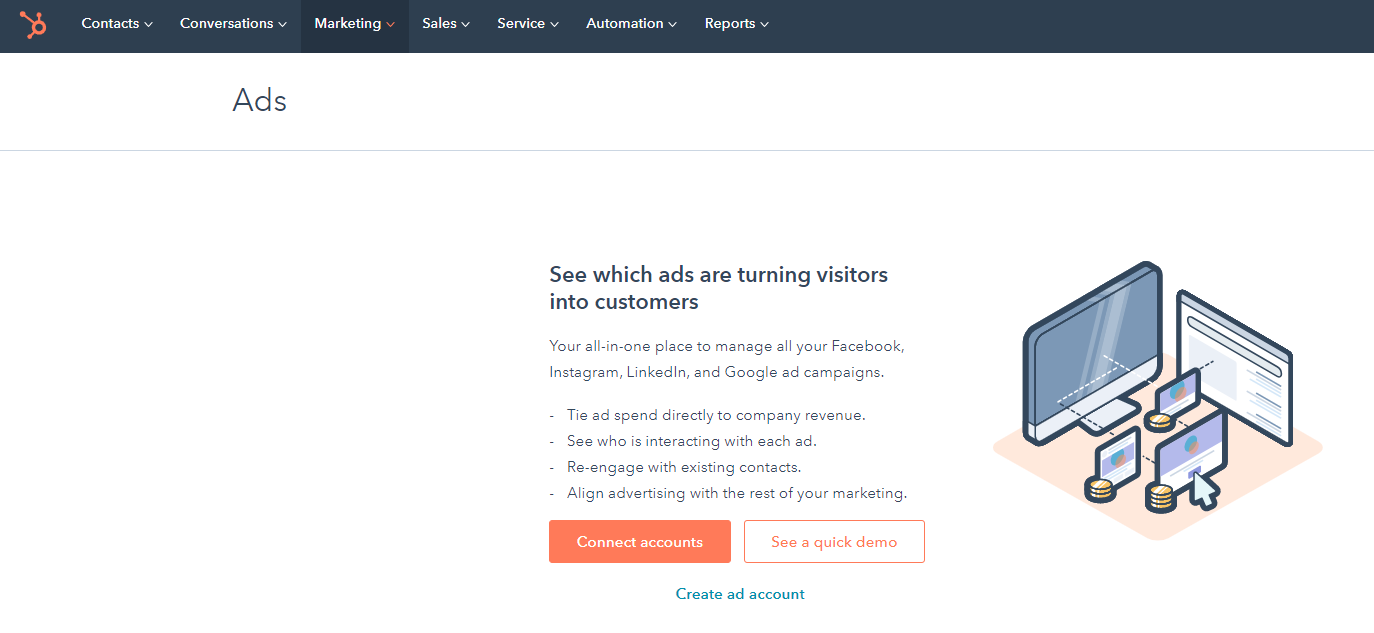 Choose which Ad account you want to connect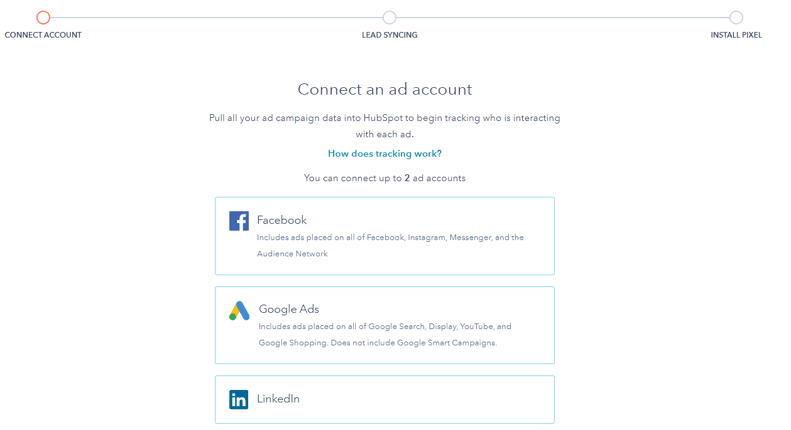 You will then be prompted to provide permissions. Click OK to proceed.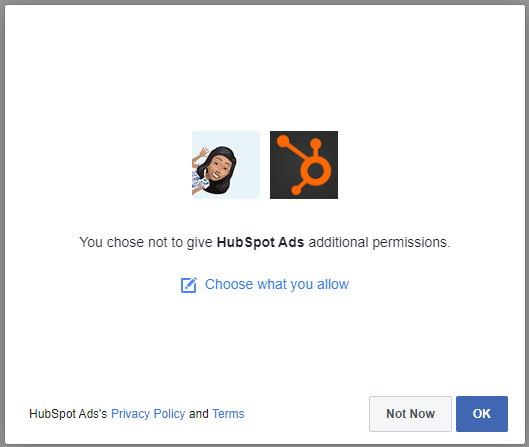 HubSpot Tracking Code in Google Tag Manager
To Add the HubSpot Tracking to Google Tag Manager, follow these steps:
Obtain HubSpot Tracking Code from Settings > Reports > Tracking Code.
Copy the Tracking code from the embed code section.
In Google Tag Manager add a new tag. For tag type, choose 'Custom HTML'
Paste the HubSpot tracking code into the HTML section of the tag configuration.
Triggering should be applied to "All Pages". Click Save.

Importing Opt-out Lists
If you have an existing lists of contacts, you may import these to HubSpot. However, opt-out list of contacts are disqualified from receiving emails in HubSpot. Instead, it marks the email addresses on the list as ineligible to receive emails from your account. These email addresses will be included if you ever export a list of bounced and unsubscribed contacts.


Prepare your list in a spreadsheet. Add an Email column with the email addresses of the contacts to be opted out from receiving emails.
In your HubSpot account, navigate to Contacts > Contacts.
In the upper right, click Import.

Click Start an import.
Select An opt-out list.
In this step, should you wish to import a contact list (example: an email sending list from Mailchimp or other platforms), choose 'Files from computer' option.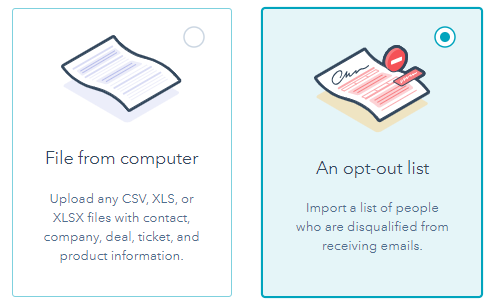 Click select a file. In the dialog box, select the import file from your device.
Click the Email field column header dropdown menu and select the column header of the column in your import file that has the Email field.
In the bottom right, click Next, confirm your choice.
In the text field, enter the number of contacts to confirm they will be opted out from receiving emails.
In the bottom right, click Begin import.
It is best practice to import an opt out list. The reason you need to import an opt-out list in HubSpot is to avoid hard bounces and unsubscribe when you first start sending emails from HubSpot. If you don't do this and you import a contact list and send to all of them and you are not sure if all emails are verified, current or want to receive emails from you, HubSpot will put a temporary ban on your email sending if the bounce rate is high.

Aside from opt-out list, you can also import contact lists. For example, if you have contacts in your email sending client like MailChimp, those contacts can also be imported into HubSpot.

Bonus: HubSpot Tips and Tricks
If you are interested in more HubSpot tips and tricks, marketing strategies, features, and insights; you might be interested in HubShots.
HubShots is APAC's number #1 HubSpot focused podcast - where we discuss HubSpot tips & tricks, new features, and strategies for growing your marketing results.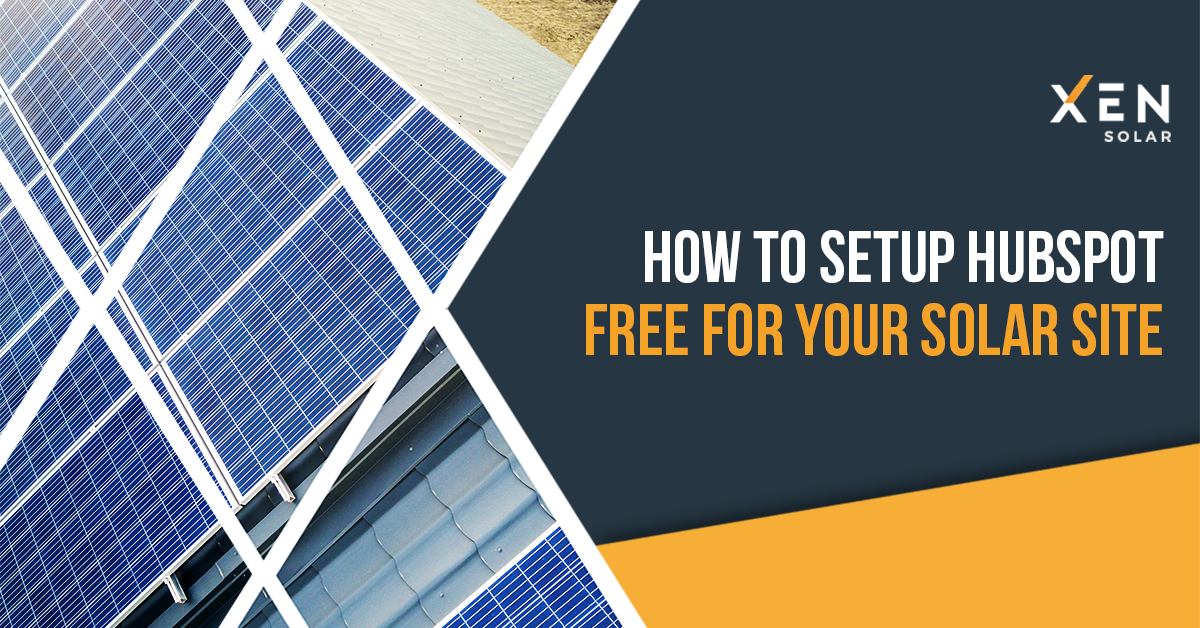 Published: Friday 16 October 2020 | Last updated: Saturday 17 April 2021