Each year, legendary internet analyst, Mary Meeker, releases insights into the latest social media and internet trends. While she gives an in-depth report (mostly based on US data), there are some clear take aways that gives marketers the chance to review current strategies and prepare for future success. Below is an outline of the main points covered for 2019. Further on I explain what this means for Australian solar dealers who are actively marketing their business.
[If you prefer, you can watch Mary Meeker's full report here]
Let's get started with some high level internet stats.
There are 3.8 billion internet users in the world
We already have 50% global penetration, so new growth remains hard to find
Internet growth across all platforms is slowing - only 6% growth in 2018
Internet growth on mobile however increased 7% in 2018.
Now consider some high level online advertising trends.
Google and Facebook continue to lead the way for online advertising, but other platforms gaining share include Amazon, Twitter, Snapchat, Pinterest.
Ad share gain drivers include:

Facebook - targeting: better audience customisation
YouTube - machine learning: automatically time-editing clips
Pinterest - e-commerce: shoppable catalogs
Twitter - high relevance (promoted tweets).

Customer acquisition costs are rising in competitive sectors globally

Reality: customer acquisition costs can't exceed Life Time Value for very long
Mobile device usage surpassed television for the first time
YouTube and Instagram are gaining the most attention
People watching short form videos (on Facebook Platform) is up 2x
Voice medium i.e. podcasts listeners, has grown 2x in last 4 years.
Trends in Efficient and Effective Marketing
The most efficient and effective marketing is one's
own product + happy customers + recommendations.
Examples of efficient and effective marketing include:
Free trial or free tier
Recommendations

AI driven - when shopping online for example, you might pick out a pair of jeans and then once you add it to your cart you'll be shown shirts that style well with your jeans. These suggestions are based on machine learning, ie data that has been compiled and analysed from other purchases that mean there's a statistically proven chance that you will also purchase the shirt offered.
Human driven - machine learning doesn't provide context, so human intervention allows human instinct to come into play. Say for example, there's chat function at the checkout. Human interaction can up-sell the sale, talk about colours or style of shirts that best suit the customer.
Sharing Images and Video
In the solar industry, we know how important images and video are in attracting customers. If you're not convinced, consider these insights:
An increasingly relevant way to communicate
Images are the oldest form of transportable communication, we're coming full circle
For the last two decades people are ramping up image and video creation, sharing online, often not just one-to-one but more one-to-many
Image creation and sharing is primarily boosted by smart phone camera functions and improved WiFi reach
Image sharing and engagement continues to ramp. For example, in 2006 on Twitter, you could only text. In 2019, Twitter has over 50% of impressions are images, videos or other forms of media
Instagram is the leader in image sharing, followed by Pinterest
Google is leading with visual text id, image identification and AI
Growth in telling stories has exploded via Instagram, Canva.
"People have always been visual, our brains are wired for images.
Writing was a hack, a detour. Pictorial languages are how we all started
to communicate - we are coming full circle." Kevin Systrom, Instagram Co-Founder
The Rise of Gaming
Interactive Gaming is an increasingly popular way to communicate. Gaming users are up 6% year on year. It's real time. Play and talk. Play and text. Play and watch. Social in nearly all ways. Discord and Twitch are possible avenues to consider if your audience are likely to be gamers.
Freemium Offers
Freemium Business models are growing and scaling. It's still early days in the enterprise/consumer market with the gaming sector leading the way.
The Freemium Business concept involves:
Starting with the free user experience: enables more usage / engagement / social sharing / network effects
Upsell to premium user experience: drives monetisation and product innovation.
It started in gaming and is now moving to enterprise and consumers.
Examples:
Freemium gaming : Runescape (2001) and epic Fortnite (2017)
Freemium enterprise: Google G suite (2006), Zoom and Dropbox
Freemium consumer: Spotify (2008) and Canva (2015).
Reviews and Recommendations
Online reviews can boost multi-sided accountability. Consider this quote below from Brian Chesky, CEO of Airbnb. He says the main principle at Airbnb is safety.
"Safety is our number one principle at Airbnb, the whole thing only works if you feel safe.
... 70% of guests - when they stay on Airbnb - leave a review, which means we've built
a system, that allows the community to review properties on Airbnb and build trust."
Brian Chesky, CEO Airbnb
What is the main principle at your solar dealership? How do you want your customers to feel once you have completed an install? Of course, you want them to feel happy and satisfied with the work - but what is this based on?
the great feeling of "going green"?
the great feeling of take control of your power bills?
the feeling of retirement security so electricity bills won't be frightening?
reducing your digital footprint for future generations?
We find that most of our solar dealers find their customers are motivated by immediate savings. Lower power bills next quarter - i.e. an immediate justification of the solar investment they made for their future.
So What Does All Of This Mean For Australian Solar Dealers
It's important to look at these overall trends and insights to work out what we can do to break through the noise our competitors create. Key takeaways for Australian solar dealers are:
Be visible on social platforms - whether it's paid or organic, make sure you are active on a number of channels. Facebook and Instagram would be the must-haves. Depending on your target customer, you can also consider Twitter, LinkedIn and even Pinterest. Here are some tips to help your solar dealership improve your social presence.
Keep your website updated and mobile friendly - the continual rise of mobile over desktop usage means that customers or potential customers are looking for your business during their leisure time. They're on mobile frequently. They want fast and accurate information. Keep your content timely and relevant. Learn more about web design and development here.
Ask Customer For Reviews - your customers are your brand evangelists. Give good service, get great reviews! If you're worried about how to ask your customer for reviews, you can find tips here.
Need Help With Solar Marketing Activities?
We often hear from dealers that they feel like there is not enough daylight hours to run and market their solar dealership. If you're looking for help to implement free or paid marketing activities with the goal of generating leads and converting them to customers then get in touch with us today. We provide:
Website audits
Marketing activity audits
in order to review your current activities and determine whether your business could benefit from a new perspective.
CONTACT US FOR INFORMATION & PRICING
You can view Mary Meeker's 2019 Internet Trends report | Code 2019 in full here.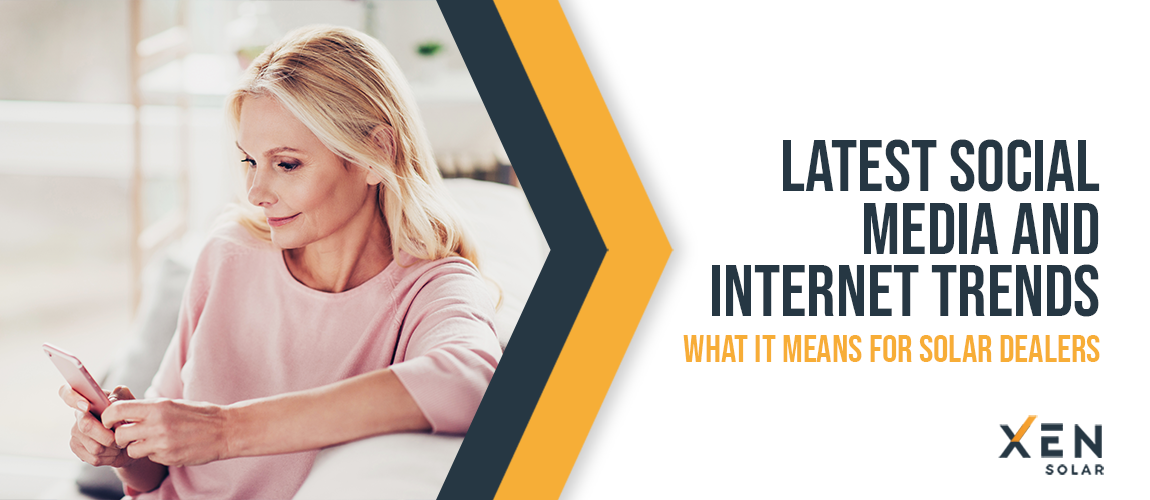 Published: Monday 17 June 2019 | Last updated: Monday 17 June 2019