With the hype of Christmas and New Year celebrations taking over between 25 Dec - early Jan, it's worth questioning whether you should keep your paid marketing campaigns running during this time. The office is closed and no-one wants to be answering calls or queries during this time. We totally get it. But there are other ways to keep your pipeline working for you while you're all on a well-deserved vay-cay.
The following marketing channels are live for most of our solar dealers:
Google My Business
Facebook Ads
Instagram Ads
Google Ads
Regular blog content
Updated posts on social channels
These channels work hard for dealers all year round, and the fun doesn't have to stop just because there is a holiday period coming up.
Here are the top three reasons we hear from dealers who want to turn off their campaigns over the Christmas / New Year period:
No-one will be in the office and calls will go unanswered
I don't want to be interrupted by social channel questions or notifications
Everyone closes down for the Christmas holiday period so I'll save some money.
Here's out top three reasons why we think you should keep your campaigns running over the Christmas / New Year period:
Your customers are in relax mode. This is the perfect time for them to be 'searching' and when they do, they'll find you. If you're not there to be found, you can bet your life your competitor will snap them up.
Similarly, if your competitor decides to pause ads over this period, then your business is more likely to show up in searches!
Instead of directing people to phone you, set up forms. Once your lead fills in the form, they receive a thank you message with a note to say that you're back in the office on xxx and will follow up then. You can even go one step further, and set up a nurture sequence for anyone who fills out the form. An automated sequence could send the following emails:

Thanks for filling in the form. We're back on Monday xx Jan. In the meantime, learn more about the benefits of solar in this recent blog post we wrote.
2 days later: another email is sent. if you are considering solar for your home, check out these frequently asked questions.
2 days later: here are some testimonials about our service. We are looking forward to talking to you once we get back from holidays!
The value of these kinds of emails is that they keep your lead warm until you can get back to them.
Set Customer Expectations Before You Go On Leave
It's good to set expectations before the office closes. Outline your opening hours/days so that people know when you are on leave and when you intend to contact them upon return.
Here are a few examples to consider:
Make sure your auto-respond Out Of Office Message is on your email
Change the voicemail message on your business phone and mobile/s
Pin a notice to the top of your Facebook page
Add a message, pop up or slide-in to your website
If relevant, put a notice on your shop door
For Google Ads - considering removing Call Extensions if you expect an influx of calls that will be too hard to manage when you return
For Google Ads - consider updating the Call To Action on your ad messaging. "Contact us for 2019 quotes" with the URL taking them to a form.
For Google Ads - create a specialised Landing Page for the holiday season - all advertising goes to this landing page and outlines the office closure times.
Remember - most Australians take a break during this time. People will not be surprised that your office is closed and that you're not taking calls or answering social comments or emails. Enjoy the break, you're going to be busy answering leads when you return!
Need Help With Solar Marketing Activities?
We often hear from dealers that they feel like there is not enough daylight hours to run and market their solar dealership. If you're looking for help to implement free or paid marketing activities with the goal of generating leads and converting them to customers then get in touch with us today. We provide:
Website audits
Marketing activity audits
in order to review your current activities and determine whether your business could benefit from a new perspective.
Contact us for more information & pricing
Learn More About Google Ads
Why Solar Dealers Should Keep Google Ads Running Over The Holidays
10 Google Ads Metrics You Should Know About
Why Google Ads Brand Campaigns Are An Important Part of The Mix
Why Geo-Targeting Is Important For Your Google Ads Campaigns & How To Set It Up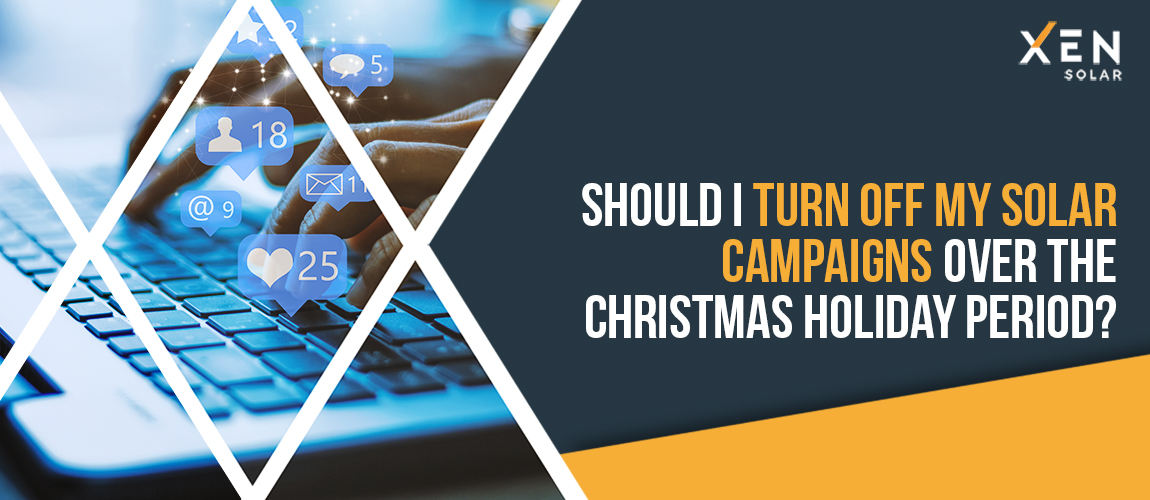 Published: Sunday 24 November 2019 | Last updated: Thursday 23 January 2020