If your solar company doesn't have a website, you might as well not exist, at least as far as most customers are concerned.
Many solar dealers pick up business from referrals and word of mouth and if that is your primary source of leads, then you're doing well! Your chances improve when you catch the eye of a potential customer who just happens to be driving by your storefront and sees your sign. But a relaxed approach is not going to attract new business in the long run. If word of mouth drops off, or people look for social proof through reviews or testimonials online then you need to be ready.
As the Australian government's Business resources site point out, a major benefit of having a website is that it allows "your business to be open 24 hours a day, 7 days a week," to boost customer engagement and help you market and sell your solar products and services. There are many other benefits for you to consider as well.
Why Having a Good Website For Your Solar Company Matters
Many people take websites for granted, not realising how crucial they are for getting the word out about a business. Your solar company will benefit by having a website built by professionals who have experience in the industry.
Advantages of developing a good website for your solar business include:
Clear and relevant content
Showcase what you have to offer and why you're the best option.
Speak to your audience
Does your audience understand how solar works, the benefits and how an expert solar team can save them money
A professional look that reflects your brand
Image matters, you need to look like a friendly, professional solar dealer who understands what customers want. We'll build a site that incorporates your branding and messaging, including the specific fonts and colours you currently use to promote your solar power company.
Easy navigation
Your solar company's site needs to be easy for customers to use and find what they want quickly. Having a good user experience means the customer won't give up in frustration and go to another company's page.
Responsive to mobile
More people access the Internet via mobile phones, so it pays to develop a website that looks good no matter what size or shape of screen someone's using to access it.
Quality over quantity
Budget plays a big part in website development so keep in mind that you get what you pay for. Cheaper sites (like $500) may seem attractive, especially when you're starting out, but you need to ask about access to the site, content updates, hosting and security. Many times we have helped solar dealers who invested in cheaper style websites only to find it costs them more in the long run. We emphasise experience and skill to stay on top of industry best practices.
WordPress for development
We recommend WordPress sites, because they are used by successful businesses all around the world, serving as a standard. They're also user-friendly, making them easy to maintain and update whether you use an agency or not.
You Can Depend On XEN Solar to Deliver a High-Quality, Attention Getting Website
Rest assured that we can deliver the website you need to bring your solar business to the next level.
The team at XEN Solar has been working with solar dealers for more than 10 years. We understand all aspects of the customers' wishes and fears when it comes to building effective solar sites. This enables us to created beautiful lead generation solar websites to educate and nurture customers along their solar journey.
Ready To Launch Your Solar Company's Website? Contact Us Today!
Whether your solar company is starting from scratch and needs a brand new website, or you need help updating a current site to bring in more leads, the team at XEN is here to help.
To learn more about how we can build a customised website for your business, we invite you to take a look at our web development process. Or, if you already have a good idea of what you need in a site, please contact us today for a quote.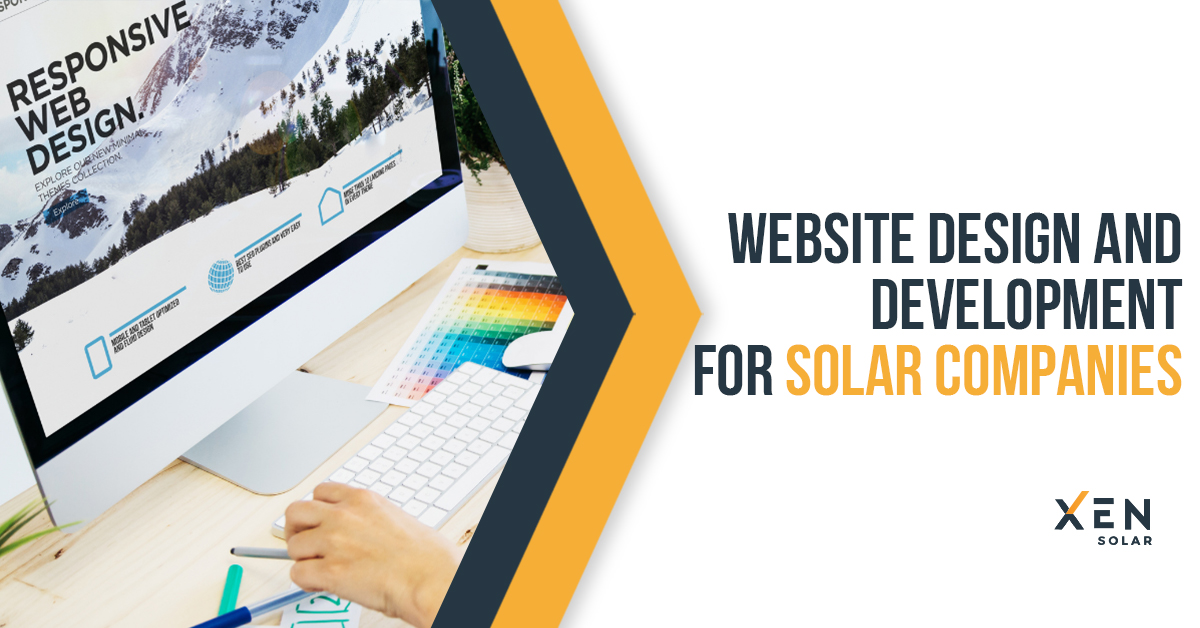 Published: Friday 19 March 2021 | Last updated: Friday 19 March 2021