As your solar business grows you need to work smarter, not harder. While you're trying to keep on top of good margins, satisfied customers and happy staff members, often marketing activities can be left hanging or undertaken by internal resources with limited knowledge.
We work with a number of solar dealers who have various reasons for outsourcing their marketing. It generally falls into the following scenarios:
All marketing activity is outsourced so they can focus on selling solar
All paid marketing activity is outsourced, they have internal resources able to look after day-to-day marketing activities
Only specific marketing activity is outsourced, the rest is handled by an in-house team. For example, blog writing, social media management or website management.
The term marketing can mean different things to different dealers. So below we outline what marketing activities to consider when running a successful solar dealership.
What Marketing Activity Is Needed For Solar Dealers?
SEO
SEO covers activity like:
Website speed (user experience, mobile-friendly)
Website content (navigation and information structure)
Keyword Research (what keywords will best generate leads)
Competitor Analysis (who are they and what activities generate leads for them)
Website Management (site updates and maintenance)
Onsite and offsite optimisation (for good user experience when someone is searching for solar).
Content Marketing
Content marketing covers activity like:
Content calendars (plan out activity rather than ad-hoc posts)
Content channels (Facebook, Instagram, LinkedIn, Google Ads, Google My Business)
Content research (what interests your customer and what would help them make a purchase)
Content mediums (posts, emails, videos, blogs, podcasts, infographics)
Content curation (align yourself with thought leaders and credible sources)
Email marketing (updates, offers, news and trends)
Blogging (on topics that interest your customer).
Social Marketing
Social marketing covers activity like:
Managing social pages (company page management and updates)
Managing social groups (company group management and updates)
Moderation (across all social pages and groups)
Scheduling (save time and money by using scheduling tools across various channels)
Updates (be aware of trends, functionality changes and algorithm updates across all channels).
Marketing Analytics
Marketing analytics covers activity like:
Traffic trends (users coming to your site, how often and when)
Conversion trends (identifying what campaigns are working to attract customers)
Acquisition trends (overview of acquisition, behaviour and conversion trends to help you make better marketing decisions)
Creating reports (perfect for management or stakeholder meetings to review ROI)
Analysing Data (identify what your customers look like (age and sex), where they live and what bought them to your site).
When Should Solar Dealers Outsource Their Marketing Activity?
In our experience, solar dealerships typically outsource their marketing activities when they:
Want leads but don't know what else to do to get them
Need staff to focus on core business
Want to improve the quality of current marketing efforts
Want to be aware of marketing trends that can be delivered without having an internal resource learning the ropes
Have a budget to be spent on tried and tested channels by people who can deliver results fast.
Need Help With Solar Marketing Activities?
We often hear from dealers that they feel like there is not enough daylight hours to run and market their solar dealership. If you're looking for help to implement free or paid marketing activities with the goal of generating leads and converting them to customers then get in touch with us today. We provide:
Website audits
Marketing activity audits
in order to review your current activities and determine whether your business could benefit from a new perspective.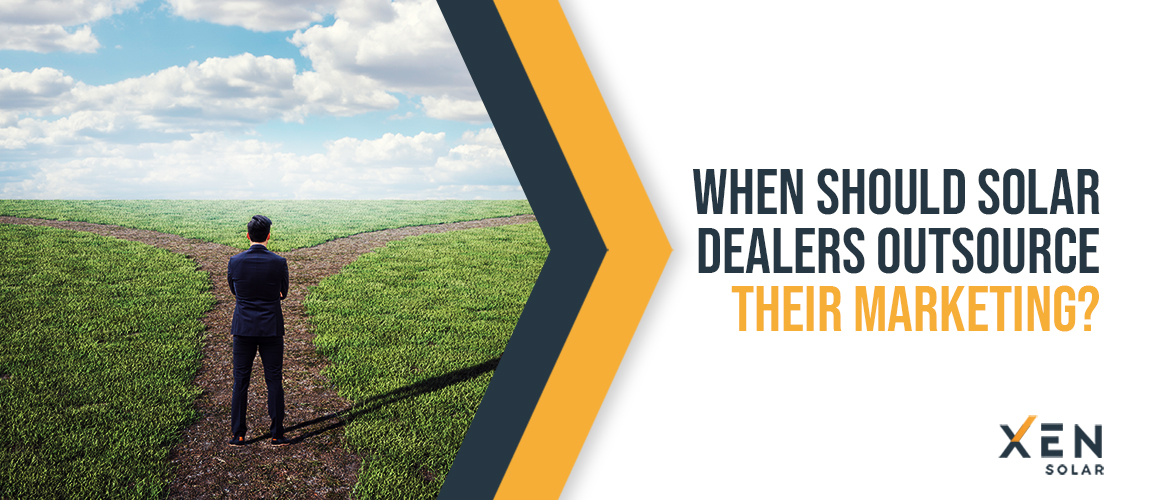 Published: Monday 05 August 2019 | Last updated: Monday 05 August 2019