Hi there - Craig here.
Here's the videos of the LG Dealer Day 2018 presentation on Digital Marketing.
You can watch each one individually below, or if easier you can watch them all on YouTube here.
Tip: When watching videos, you can use the Settings to speed them up - you can watch them at up to 2X speed: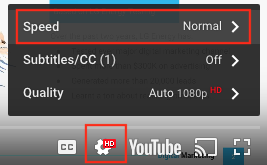 Click here to download the slides from the presentation.
Video 1: Introduction and Key Trends (5:44)
In this video I explain what digital marketing is and highlight the key learnings from more than 2 years of testing with LG Energy:
Video 2: Website, SEO and Google My Business (15:24)
In this video I highlight the need to have a mobile friendly website, as well as some SEO tips and optimising your Google My Business listing:
Video 3: Digital Trends in 2018 (1:34)
This video covers two quick trends to take advantage of in your digital marketing:
Video 4: Social Channels (9:04)
We cover the social channels including Facebook, Instagram, Twitter and LinkedIn:
Video 5: Paid Advertising (9:58)
This video highlights some gotchas to be aware of with Google AdWords, and the surprising success of Facebook and Instagram advertising:
Video 6: Key Takeaways (6:17)
In this summary video I pull together the main takeaways, plus highlight some resources LG are preparing for LG dealers:
Video 7: Helping LG Dealers (17:46)
This video walks you through the upcoming Done-For-You digital marketing service we're planning for LG Dealers:
I hope you've found these useful - if you have any questions please feel free to contact me using the form below.
Best regards,
Craig
Craig Bailey | Technical Director | XEN Solar