Whether you are new to solar or simply looking to boost your existing solar business, we have a marketing cheat sheet to help you stay ahead of your competitors.
Let's review key activities so you can get an idea of what you can be planning for.
SEO
Website speed is important because if the page takes too long to load then people will click off your site and look elsewhere. A good user experience ensures that people feel positive after using your site and have found the solution to their query. You want people to find what they need quickly, spend time looking through a number of pages and resist bouncing off to another site.
Optimising SEO using onsite and offsite strategies can give you an edge over competitors.
Onsite SEO focuses on titles, tags, content and keyword targets.
Offsite SEO focuses on having inbound links from reputable sites that add credibility to your business. For example, an LG Platinum Dealer would also be promoted within the LG dealer network.
Content
Content research allows you to understand what problem your customer is hoping to find a solution to. ie How many solar panels do I need?
By identifying what content will resonate well with your customer, you can then create a content calendar. The purpose of the calendar is to keep you posting regularly and consistently on topics that interest your customer. Having a calendar in place will lessen the time you need to think about what to post and when.
There are two ways to think about content; creation and curation.
Content creation is something you generate yourself. It might be a blog or a video, but you are the author or owner of the content.
Content curation is where you share information that relates to your business. It might be a recent study that lists the benefits of solar. Sharing this on your social pages allows you to:
share information from a credible source
share content that relates to industry but benefits your small business (positioning yourself as a thought-leader), and
please Google - they love it when you create and share good content.
Channels and mediums are always fun to test. You need to think about where your audience is hanging out in their leisure time. Most often than not it's Facebook, but if you have a more professional audience (for commercial solar)it could also be LinkedIn; or a younger audience can be found on Instagram.
Content mediums include:
blog posts (great for people researching information)
videos can be light-hearted or showcase products or services (they can also be edited and captioned for easy viewing)
photos can be a consistent way to convey your brand, quality and styling of your business.
Social Marketing
Social marketing can be headache for dealers who are time and resource poor. Especially if you are regularly posting to social channels, or running paid ads, moderating and engaging in comments and responding to queries.
Scheduling content has been made easier with tools like Buffer. Buffer is a cross-platform scheduling platform that supports the largest social networks. So whether you're a big or small solar dealer, Buffer is a marketing tool that can take the headache out of social scheduling. Learn more about how Buffer saves time when scheduling content for social.
Keeping with with the latest functions, trends and updates on social channels can be overwhelming. What worked in social last year may not be as powerful in gaining a response this year. Mary Meeker's latest internet analysis highlights what's worked, what's failed and where your core channel promotions should be heading. You can check out her predictions for latest social media and internet trends here.
So where do you think your solar dealership stands on its current marketing activities?
Take a look at our cheat sheet to gauge whether you need to improve your current strategy. Alternatively, you can download the cheat sheet to share with your team here.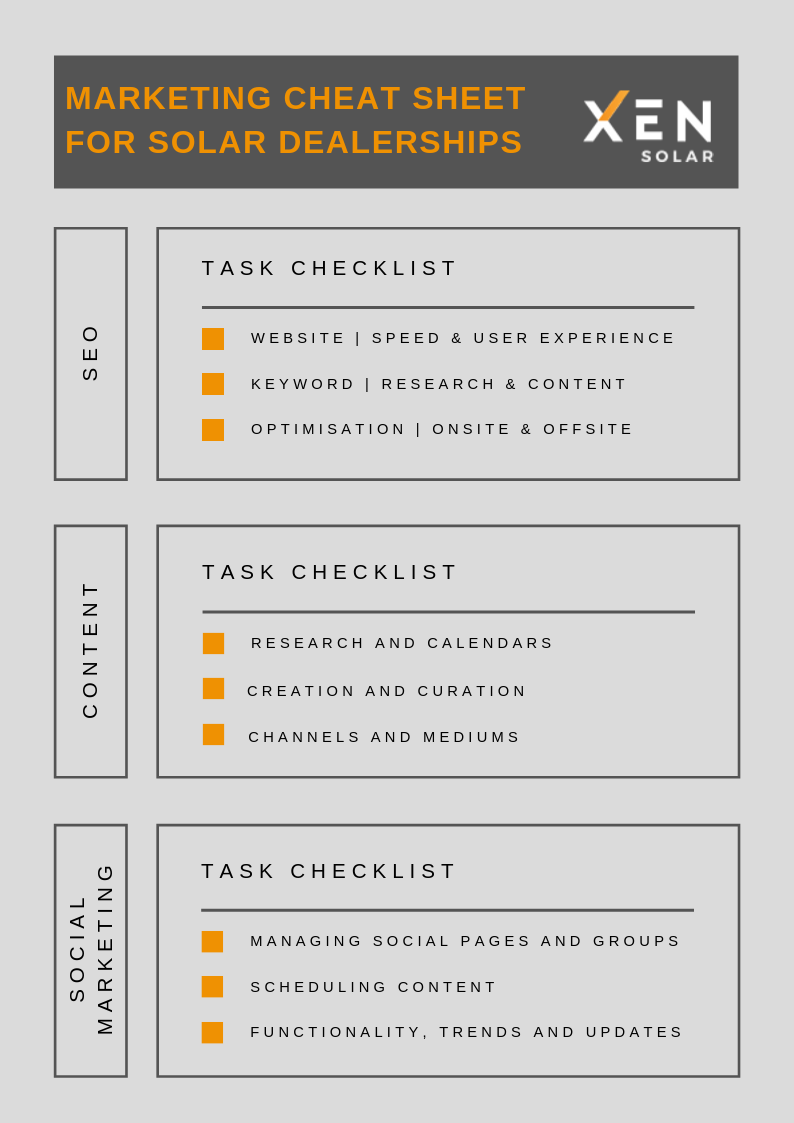 Are you Feeling Overwhelmed?
We Can Help You With Your Solar Marketing Activities.
We often hear from dealers that they feel like there is not enough daylight hours to run and market their solar dealership. If you're looking for help to implement free or paid marketing activities, with the goal of generating leads and converting them to customers, then get in touch with us today. We can help with:
Lead generation activities
Websites updates and maintenance
SEO goals
Content goals
Social media marketing goals.
CONTACT US FOR INFORMATION & PRICING
Nope, I'm All Good, We've Got This!
Congratulations, this is great news! In that case we'll leave you with some latest blogs to help you stay ahead of the pack.
Why We Recommend WordPress To Solar Dealers
Why Credibility Is So Important For Solar Dealers Right Now
How To Use Video In Your Google My Business Posts
How To Ask Your Solar Customers For Reviews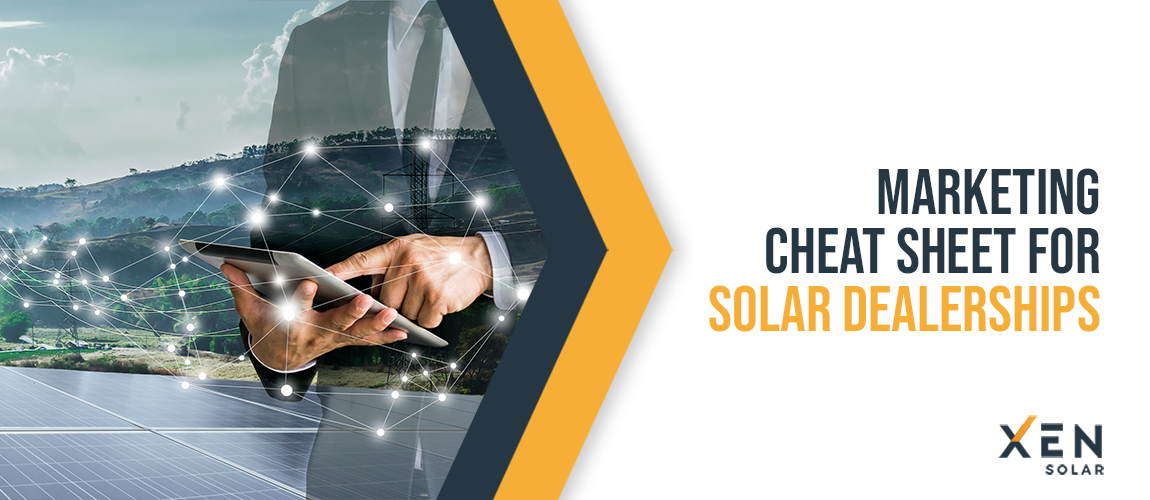 Published: Monday 07 October 2019 | Last updated: Monday 07 October 2019